Over the next few weeks I am about to write posts in relation to all the training concerns I'm having using my weimaraner Remy. He's just about 11 months and so still very much the puppy.
The main reason for these posts is to help others. If Now i'm having these issues, you'll be able to bet thousands of others are having similar concerns! Remy is not all that exceptional (sorry, Bud!).
Second, I need to show you I am not perfect. My dog features his quirks and i have made mistakes.
Third, I would personally love your guidance!
And fourth, writing about the problems forces everyone to admit I have difficulties, write them down and come up with an absolute plan. Ignoring concerns usually makes them more intense.
So here are our problems. I'll probably reveal these in this tough order, starting with what I believe is the most major.
Training issues with my weimaraner:
Coming while called (he is not going to)
Possessiveness of certain toys like squeaky toys along with soft toys. He's not aggressive but this individual holds onto them with a new death grip as well as becomes totally concentrated.
Aggression when other household pets walk by their kennel.
Possessiveness of his / her food bowl with those and pets.
Nipping at me when I seek to put him in the kennel. He articles at my wrist.
Humping me! Also humping Ace's dog bedding and blankets.
General protest barking in his kennel.
Jumping and biting during people out of exhilaration during greetings. (Immature puppy biting, not really aggression).
Pulling on the lead.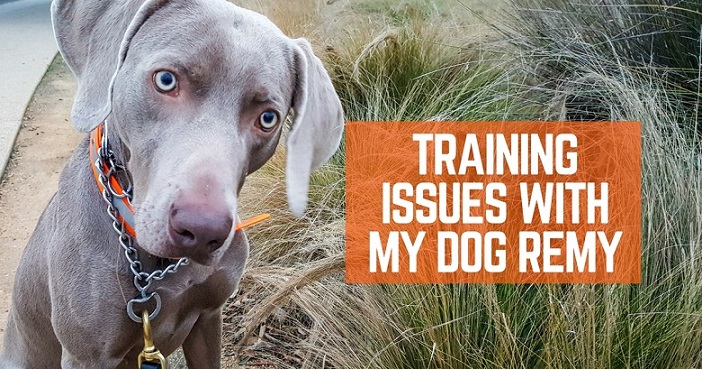 Remy is not a bad pet dog. He's normal. These are definitely all common complications but obviously possibly not behaviors I want to boost. Most of these are light problems at the moment, but tend to become more serious.
If that you are having similar challenges with your dog, often the best thing you can do is hinder or prevent the difficulty. If you simply keep a dog from doing an unwanted habits, it is no longer sturdy.
For example, Remy barks aggressively in the event my cats go by his crate so I moved his particular kennel to a quiet corner and I really encourage my cats never to walk in that area.
As a different example, Remy becomes really obsessive over smooth squeaky toys so we basically don't give him the type of toys.
I'll go over many of these issues in more facts over the next month or so.
Now – onto Everyone. What are your the majority of serious training challenges at the moment? Do any with mine sound familiar? Certain not to miss training problems you want to see addressed for the blog?
Thank you for your personal feedback and chat soon!
-Lindsay